If you ever find yourself in South or Central England then definitely Visit Cambridge. This city in Cambridgeshire offers plenty of tourism options. Here are few:
---
Go Punting
---
When you visit Cambridge, before you give special attention to certain location, you should explore the city as a whole. See the streets. Admire the architecture. Feel the vibe. There are few ways to do that:
Public transportation. Classic! Also, not the best choice in my opinion as you won't get the full vibe of Cambridge. So let's move to…
Walking. Always fun to walk around a new city, especially if it's as beautiful as Cambridge. The city is not huge so walking is not a problem. But wait, it gets more interesting…
Cycling. Cambridge is known as the cycling capital of UK so why don't you rent a bike? But be aware: with many bicycles there will be many thieves!
Boat. No doubt the best way or exploring Cambridge. The river Cam flows through Cambridge so hop on a boat and prepare your camera.
The boat is called a punt: a flat, square bottom boat for shallows waters where the "driver" uses a simple pole to push the punt away by reaching the bottom of the river.
You can also hire your own punt and show off your skills! But be careful! It is not as easy as it looks like… especially when it comes to turning the punt back.
On the river Cam there are 25 bridges and on your punting tour you'll pass by 9 of them. Here are few:
Bridge of Sighs: crosses the River Cam between the college's Third Court and New Court of St John's College. The name is probably inspired by the Bridge of Sighs in Venice with the difference that the sighs here were coming from pre- exam students and not from prisoners.
Clare College bridge: that's the oldest standing bridge. Curious enough, there's a missing stone piece from the bridge. Nobody knows why but there are few legends about it. One of them says that the person who built it did this so he can claim it as unfinished and pay less tax.
Mathematical bridge: the bridge looks like an arch even though only straight timbers were used for its construction. It is said it was built by Sir Isaac Newton. That's a common rumour but it can't really be true simply because Isaac Newton died about 20 years before the constitution of the bridge.
Please NOTE:
DO NOT buy your punting tickets from people selling them on King's Parade (the main Street in Cambridge) or the Market Square as illegal punt operators sell tours from these locations.
And speaking of Market Square…
---
Visit Market Square
---
Market Hill (a.k.a. Market Square) is located in central Cambridge and has been there since Saxon times!
The market is open daily from 10 to 4 and you can find literally everything.
Market Square was mainly filled with buildings but in 1849 a major fire demolished everything.
---
Climb St Mary's Church Tower
---
Right next to Market Square there's a tall tower, part of St Mary's Church. When you go up there you not only will have a magnificent view of the market from the top but also will have the opportunity to enjoy 360° of Cambridge.
Tickets are £5. Pay less during the weekdays.
---
Cambridge University
---
Here's something curious about Cambridge University: do not expect to see a bulling with a big sign saying Welcome to Cambridge University. THERE'S NO SUCH THING!
Cambridge University is combined of different colleges spread around the city. In some of them you can go for FREE. For some you need to pay. Here are few colleges in Cambridge:
King's College
King's College is located right between the main pedestrian street in Cambridge (King's Parade) and the river Cam.
Although getting in King's will cost you £9, you will be stunned by the view once you are inside.
King's College Chapel in Cambridge is regarded as one of the greatest examples of late Gothic English architecture.
Please buy your tickets at The King's College Visitor Centre, opposite the front of the College.
Be advised that July and August are the busiest months of the year, and there may be queues to buy tickets at the weekends.
Queens' College
The only college in Cambridge that has timber buildings. Visit Queens' College for the Mathematical Bridge.
Trinity college
This Cambridge college was founded by the infamous King Henry VIII. Members of Cambridge University have won (so far) 116 Nobel Prizes and 33 of them are members of Trinity College. That is the highest number of any college at either Oxford or Cambridge.
Cambridge University is the 4th oldest surviving university in the world and the second in the English speaking world right after Oxford and there is a very nice curiosity that comes together with this fact.
DID YOU KNOW THAT… Cambridge University was founded by scholars leaving Oxford? That happened after a dispute caused by the execution of two scholars in 1209.
The University inspired the establishment of the city of Cambridge, Massachusetts, in the United States, where you can find the first college in the United States, Harvard University, named after John Harvard who was a Cambridge graduate.
You can actually "meet" John Harvard in Emmanuel College. Go to the chapel and look left. You'll see John on the left side on the second window.
Some Cambridge Graduates include: Stephen Hawking, Isaac Newton, Alan Turing & Charles Darwin.
Some Harvard Graduates include: Mark Zuckerberg, Barack Obama & Bill Gates.
---
Cambridge University Botanic Garden
---
The garden was created for the University of Cambridge in 1831 by Charles Darwin's mentor: Professor
John Stevens Henslow
and has a plant collection of over 8000 plant species from all over the world.
Tickets are about £6.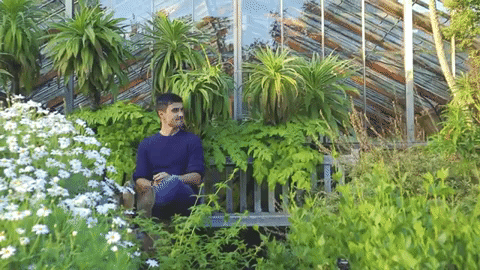 DID YOU KNOW THAT… In Cambridge University Botanic Garden you'll find an apple tree that is reported as a descendent of the tree that inspired Isaac Newton to formulate his theory of gravitation.
Watch the Cambridge Travel Guide Video ⬇️⬇️⬇️